KATO SEISAKUSYO CO.,LTD. was established in 1947 as a copper alloy casting company. Since then, we have followed the path to a raw material and formed parts manufacturer. Based on our mission of supporting the water pipes that are the foundation of modern living, we have ceaselessly strived to accumulate technology and know-how and have achieved success through our products. As the manufacturing environment has changed, we have created a new organization, including constructing an overseas network, and have meet the needs of society and of industry. Currently, the casting industry faces the major issue of making our products lead-free and powerful demands are being made on manufacturing for energy conservation and resource conservation. Together with quality and cost, we have placed an emphasis on this environmental quality improvement in our technology development and are both contributing to the success of our customers and fulfilling our mission and responsibility as a company with roots in the region.
Research and Development of New Technology
Our approaches to a pollution-free casting plant and for the spread and expansion of lead-free products
The 21st century is called the "century of the environment". We must seriously tackle the environmental problems that had manifest at the end of the 20th century. These movements are global. In Europe, the EU has enacted the Restriction of Hazardous Substances Directive (RoHS Directive) and consultation is underway in Japan too in order to comply with this law. Even before this, the standard for lead seepage was strengthened from 0.05 mg/l to 0.01 mg/l by the revision of water quality standards in April 2004.
■ In order to keep with up with these movements, since FY2004, we have been aggressively tackling making our casting plants no-pollution and lead-free and tackling low-lead bronze and other new materials. At our casting plants, we have introduced a "decompressing & refrigerating casting system" that has no need for measures against dust and that has low levels of smell, noise, etc. making it suitable for the residential environment. We are aiming at spreading and expanding the use of our lead-free products with an eye on the entire range from upstream of the industry to downstream. Compared to conventional bronze castings (CAC406), new materials that contain almost no lead have some difficulties with ease of casting, cuttability, defect rates, etc. but we are researching and polishing our technologies day by day in order to conquer these difficulties for the sake of the future. We are accumulating our know-how for castings of new materials to a level appropriate to our company.
[RoHS Directive]
The RoHS Directive is the Restriction of Hazardous Substances Directive enacted in July 2006 by the European Union (EU). It is a stringent regulation that in principle prohibits a total of six products – mercury, lead, hexavalent chrome, cadmium, and brominated flame retardants in electrical products. The objectives of this directive are to protect the global environment and to avoid potential dangers to people. It takes a forward-looking approach by cutting off materials with regulations even if their impacts on the human body are not clearly elucidated.
Making Our Casting Plants Pollution Free
Aiming for an environmentally friendly 21st century urban casting plant
■ For energy saving, resource saving, and reduced environmental load We are aiming for pollution-free casting systems.
Research into making casting plants pollution free (decompressing & refrigerating casting system)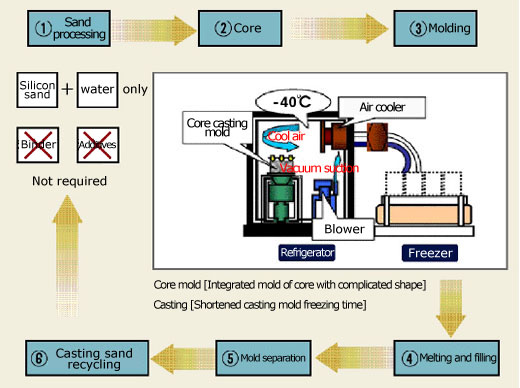 A "decompressing & refrigerating casting system" that has no need for measures against dust and that has low levels of smells, noise, etc. making it suitable for the residential environment. We are researching new casting technology aiming for a 21st urban casting plant. Compared to existing greensand mold casting systems, there are many issues, including something of deterioration in productivity, but we are resolutely taking on this challenge for the sake of the future.
Lead-Free Copper Alloy Castings
Lead-free products are becoming the mainstream globally.
■ To the lead-free age We are tackling the entire range of lead-free products in cooperation with affiliated companies from upstream of the industry to downstream.
Summary of research into cost reduction for lead-free copper alloy castings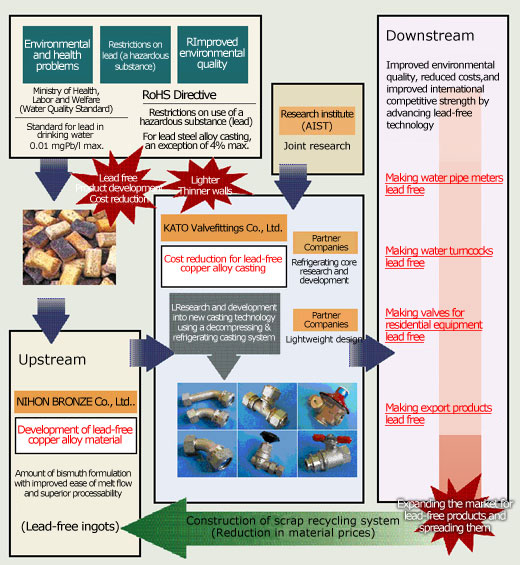 Environmental Approaches
KATO SEISAKUSYO CO.,LTD. is promoting global manufacturing that reviews the impacts of manufacturing processes for copper alloy cast products on the environment, taking into account protection of the global environment and limits on resources and aiming to reduce the environmental burden.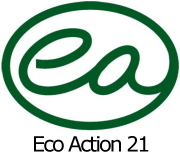 1.Environmental goals are set for reducing environmental burdens and deployed in the company, internal audits are carried out periodically, and the environment management system is continually improved.
2. We strictly observe legal regulations that apply to this company and other requirements that we set.
3. The following crucial items are executed for environmental protection. * Promoting advances in casting technology * Promoting resource conservation and energy conservation * Reducing waste matter and improving recycling
4. We disseminate our environmental policies to all our employees and at the same time publicize them to the general public.