Quality Policies

In 1998, we obtained certification under the International Standards Organization ISO9001 standard for quality control systems. Our entire company works to maintain quality control that our customers can count on.

Bronze valve production process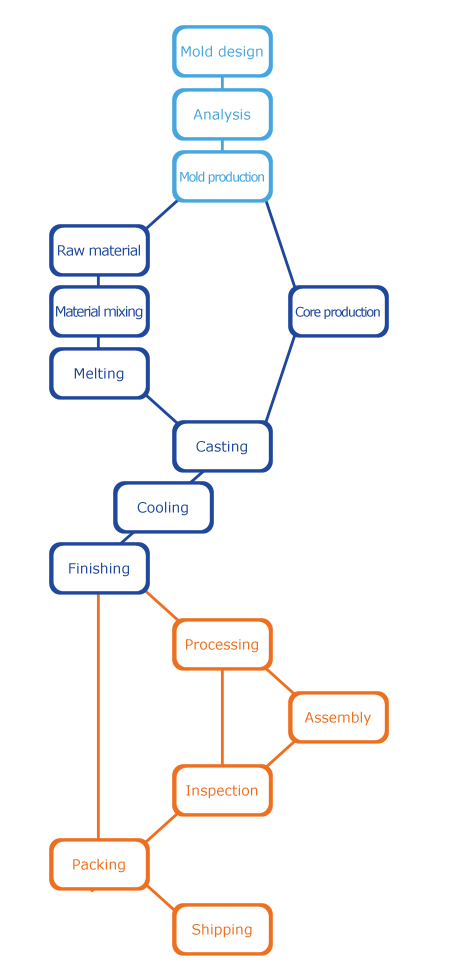 One feature of our production processes is that from all processes from mold design and production are done at our headquarters plant. Also, the fluid and gas analysis software we possess leads to superior mold design. In castings, lead was a substance that served the role of filling in casting defects. However, nowadays support is required for RoHS compliant materials, lead-free materials, materials for which lead is restricted, etc. We have a system that can supply products with stable quality even made from such high degree of difficulty products by utilizing our analysis software to produce molds with the optimum design.

At our headquarters plant, we have introduced the "decompressing & refrigerating casting system", which is a patented technique and are casting with the theme of 21st century manufacturing. Manufacturing that is friendly to the environment and to people, and this is exactly what the decompressing & refrigerating casting system aims for.

※* Click here for details on the decompressing & refrigerating casting system. ☛ http://www.katovalvefittings.jp/en/mission/ In China and Vietnam, we have an organization that can use automatic molding machines to handle mass production orders. Our Dalian Plant is currently the center of our production. Our Vietnam plant will handle the next generation of production. The casting industry is classified as a 3D industry and finds it difficult to secure personnel in Japan, but through our cooperation between Japan, Chine, and Vietnam, we promise to continue delivering our customers the products they need.

Our customers' needs change with the times. Even having started out as a casting company delivering raw materials, nowadays of course we deliver processed products and we supply diverse products to our customers, including assembled products, polished products, surface treated products, and many others.